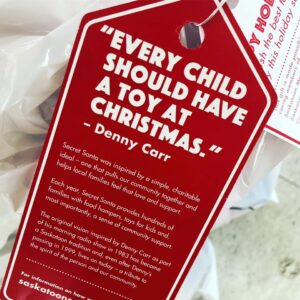 Secret Santa was the brainchild of long-time Saskatoon radio personality Denny Carr. Beginning in 1983, it was his dream that every needy child in Saskatoon would receive at least one new toy at Christmas time. Denny became the driving force, in conjunction with the Salvation Army, behind an annual drive that brought smiles to the faces of thousands of children. Sadly, Denny Carr passed away from cancer in 1999. By then the annual Secret Santa campaign had taken on a life of its own.
In 2000, CJWW General Manager Vic Dubois took the necessary steps to form a federally registered charitable Foundation with the ability to issue tax receipts. It is called the CJWW Denny Carr Secret Santa Foundation and has a volunteer Board of Directors comprised of community-minded citizens.
In 2005, due to the successful growth of the program's funding, the Foundation Board made the decision to expand the Secret Santa mandate in order to provide a complete Country Christmas for 600 less fortunate families with children under the age of 12. Since that time, when the recipients come to the Secret Santa depot the week prior to Christmas, they receive a nutritious food hamper as well as gifts of toys for their children.
Today, due to the wonderful generosity of our sponsors, volunteers, numerous businesses and organizations, and the community at large, we continue to provide annual Christmas food and toy hampers to 800 Saskatoon families, on average 3,000 people, and we cannot thank everyone enough who makes this possible.